Corporate Citizenship Awards: Golden Pacific Bank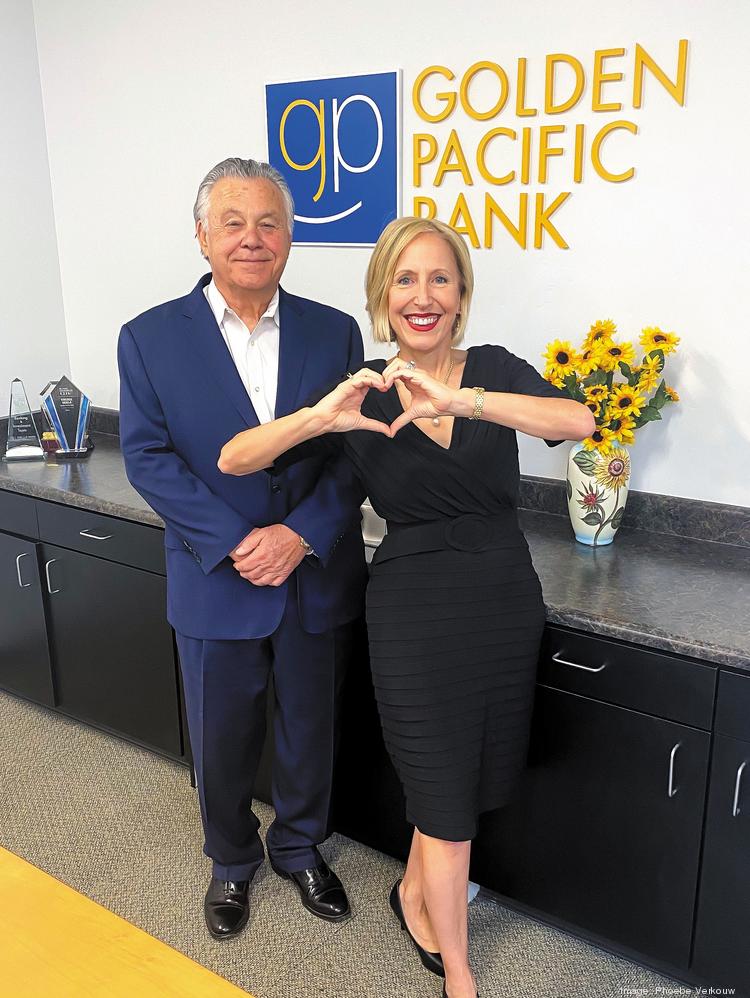 Golden Pacific Bank CEO Virginia Varela and Chief Operating Officer Malcolm Hotchkiss.
By Beth Davis – Contributor
Oct 5, 2020, 6:09pm EDT
We're introducing you to the honorees in our inaugural Corporate Citizenship Awards. This is the honoree in the Champion for the Arts category.
Golden Pacific Bank is the smallest locally owned bank in Sacramento, but it leaves a big footprint when it comes to philanthropy.
Founded in 1968, Golden Pacific takes its responsibility as a community bank very seriously, said CEO and President Virginia Varela. Noting that the bank's founders represented a number of minority-led organizations, such as Black, Asian and Hispanic chambers of commerce, Golden Pacific's mission is to serve the whole community, she said.
A diverse group of organizations have benefited from Golden Pacific's philanthropy. They include Loaves & Fishes, Weave, Wellspring Women's Center, Street Soccer USA, Cristo Rey High School, Family Promise of Sacramento, the Sacramento Philharmonic and Opera, Sacramento Speakers Series and Mercy Pedalers.
Golden Pacific, which primarily serves small- and medium-size businesses, donated about $42,000 to nonprofits during the past 12 months. That includes a match program with the Federal Home Loan Bank in San Francisco but doesn't include money donated during charity events and fundraisers. It also doesn't include the hundreds of hours donated by staff for in-kind services.
As Sacramento's smallest independent bank — with $134 million in assets and net income of $333,000 in 2019 — most of Golden Pacific's donations consist of in-kind services. That means opening up the bank's community room in its Midtown headquarters for meetings held by local chambers of commerce and rotary groups. It means hosting internships for students and providing free webinars on small-business lending during Covid-19.
It also includes the many hours donated by senior executives to local boards of directors, particularly in the arts community. Varela, for instance, is president of the board at the Sacramento Philharmonic & Opera. And John Shirey, a board member at Golden Pacific, is vice president of the philharmonic's board.
Both have been on the philharmonic's board since 2018. Although both are music fans, neither of them is a musician. It's their leadership skills, business expertise and their love of community that are valuable to the philharmonic board, said Alice Sauro, executive director of the music organization.
Sauro was hired by the philharmonic in 2015 to help turn around the struggling organization. Early on, she met Shirey, who was then Sacramento's city manager. Deeply concerned about the philharmonic, he was instrumental is providing the group with money to fund free pop-up concerts at various locations around town. "I thought the orchestra needed to change its community involvement," Shirey said. "Instead of expecting people to see the orchestra at the community theater, I wanted to see the orchestra come to the people."
---
Update from Golden Pacific Bank….Safety is a high priority.
Dear Golden Pacific Bank Customers, Shareholders, and Employees,
Safety is a high priority for Golden Pacific Bank. As a local community bank, our employees and the community we serve are the heart of our business. We are committed to providing a safe and secure environment for our employees, customers, and vendors.
Since the emergence of the coronavirus (COVID-19), we are monitoring developments on a day-to-day basis. None of us has a playbook that covers all contingencies, but we remain committed to address issues as they arise in these challenging times.
Golden Pacific Bank remains open for customer service operating under regular bank hours at all branches. Golden Pacific Bank supports the national healthcare directive to limit personal contact by offering alternative ways for you to manage your financial needs. We encourage use of our online banking service at www.goldenpacificbank.com or by calling us at (800) 582-5503.
Other actions we are taking:
All customers are allowed to access their deposit accounts at any and all ATMs and Golden Pacific Bank will reverse all "out of network" ATM fees on customer statements.
Customers may use our digital banking by logging in at www.goldenpacificbank.com
Customers may use the Golden Pacific Bank mobile app. Contact your local Branch Manager if you need help setting this up.
A drive up window is open at the Yuba City branch and night drop boxes are available at the Yuba City and Live Oak branches.
Bank and bank branches are subject to daily monitoring.
We're frequently cleaning touch surfaces throughout our customer and employee areas.
We're urging all to be vigilant about frequent hand washing and social distancing.
Employees who feel ill or who have been exposed to the virus are instructed to stay home and consult their healthcare providers.
Our heartfelt thoughts and prayers are with all of you impacted by this virus. This can be a stressful period. Please know that Golden Pacific Bank wants to serve you. We are committed to being disaster ready and equipped to handle your cash and credit needs and those of your friends in the community.
Sincerely,
Virginia Varela
President & CEO
---
Owners of the Gridley Inn commend Golden Pacific on their awesome community banking experience!
"Golden Pacific Bank, and especially Joe McClure and Loan Officer Doug Dransfield, went above and beyond when it came to providing financing for our business. We couldn't be happier and would recommend Golden Pacific Bank to anyone interested in a true community bank experience."
- Ms. Jaswinder Kaur and Mr. Manjit Lally, Owners of Gridley Inn.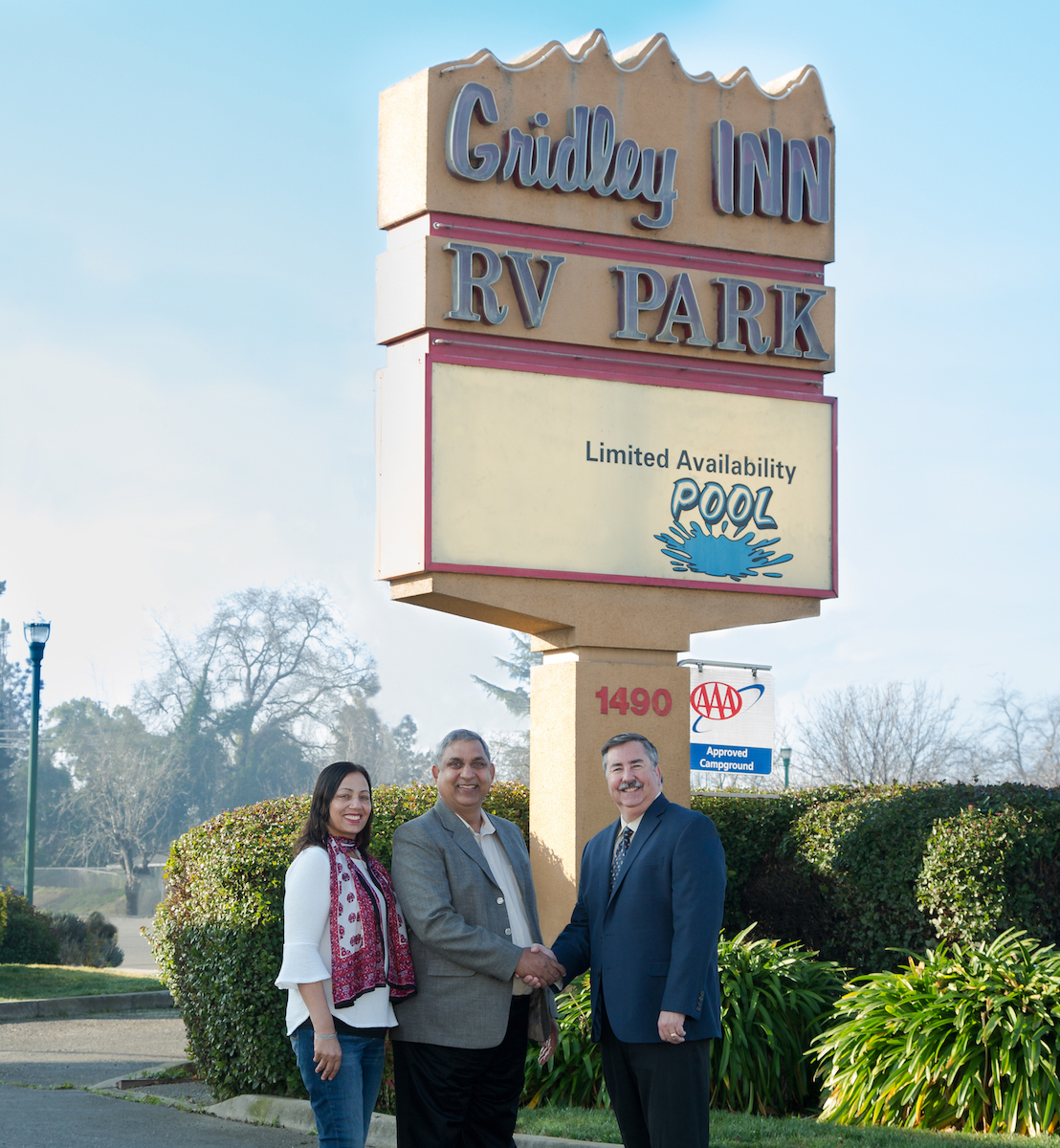 ---
Sacramento Banks Outpaced the Nation in 2018
March 26, 2019 – Community banks that serve the Sacramento market saw double-digit growth in loans and assets last year, and earnings growth that outpaced banks nationwide.
Community bank performance is based largely on the health of the communities they serve, so local banks' successes show Sacramento was booming last year.
"We are working like crazy to make loans," said Virginia Varela, CEO of Sacramento-based Golden Pacific Bank.
Sacramento bankers are seeing increasing loan demand from bankable customers, she said.
Golden Pacific Bank scored the highest return on assets of all local banks, but it was helped by a reversal of a deferred tax asset of $4 million.
The bank also managed to cut its costs by moving from two downtown offices to a new headquarters in midtown that it owns, Varela said.
Nationally, the Federal Deposit Insurance Corp. said total bank loans grew 4.4 percent in 2018, but Sacramento's banks saw loan demand rise 18.1 percent.
What's more, all 5,406 banks in the country reported fourth-quarter income of $59.1 billion, up 133.4 percent from the year-earlier quarter. While that is an eye-popping increase, Sacramento's cohort of regional and community banks saw income of $83.8 million, an even more stunning increase of 313.7 percent.
| Bank | Return on average assets | Assets 12/30/2018 in millions | Percent change in assets | Earnings in 2018 in thousands | 2018 4th Q earnings in thousands | Total loans 2018 (in millions) |
| --- | --- | --- | --- | --- | --- | --- |
| Golden Pacific Bank | 3.13% | $128 | 2.4% | $4,003 | $3,415 | $100 |
| Five Star Bank* | 2.19% | $1,272 | 30.7% | $24,803 | $6,010 | $955 |
| Exchange Bank | 1.47% | $2,652 | 2.7% | $38,511 | $9,007 | $1,475 |
| F&M Bank | 1.47% | $3,439 | 12.2% | $46,552 | $12,887 | $2,516 |
| Bank of Commerce Holdings | 1.47% | $1,307 | 2.9% | $18,916 | $6,212 | $936 |
| Central Valley Community Bank | 1.38% | $1,537 | -7.5% | $21,925 | $5,404 | $910 |
| Tri Counties Bank | 1.33% | $6,351 | 33.4% | $71,747 | $23,963 | $3,993 |
| Suncrest Bank | 1.3% | $929 | 75.6% | $9,857 | $3,489 | $646 |
| River City Bank | 1.15% | $2,206 | 8.2% | $24,005 | $6,811 | $1,565 |
| American River Bank | 1.06% | $688 | 4.9% | $5,408 | $1,262 | $319 |
| First Northern Bank | 1.04% | $1,250 | 2.6% | $12,710 | $3,382 | $766 |
| El Dorado Savings Bank | 0.9% | $2,184 | 0.5% | $19,666 | $5,341 | $581 |
* Five Star Bank is incorporated as a sub-chapter S corporation and does not pay federal taxes; its shareholders are taxed as partners.
And while the national banking industry reported full-year 2018 net income of $236.7 billion, up 44.1 percent, full-year income of Sacramento's banks was $294 million, an increase of 59.6 percent.
The fourth quarter's rise in earnings came in part from early payment of taxes at the end of 2017 in anticipation of tax cuts, followed by the impact of those cuts at the end of 2018. The 2017 federal tax overhaul cut the corporate tax rate from 35 percent to 21 percent last year.
Eleven of 12 local banks exceeded a 1 percent return on average assets, which is the benchmark of success in community banking. Not a single bank in the local mix lost money in the fourth quarter.
Sacramento did lose its oldest bank to a merger, however. In December, Sacramento-based Bank of Commerce Holdings (Nasdaq: BOCH) completed its $37 million purchase of The Merchants National Bank of Sacramento, which opened in 1921.
A separate bank deal, Los Angeles-based PacWest Bancorp's (Nasdaq: PACW) offer to pay $466.7 million for Placerville-based El Dorado Savings Bank, collapsed when El Dorado shareholders declined the sale.
---
Golden Pacific Bank Continues to Support Local Small Business in Our Community!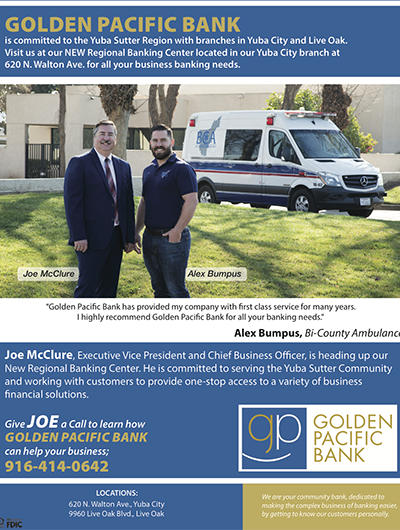 ---
GPB Announces New Leadership Team!
Click here to see the article detailing all the new & exciting changes!
---
Look for Golden Pacific Bank on the Back Cover of the Yuba Sutter Visitors Guide!
View the Yuba Sutter Visitors Guide.
---
President and CEO Virginia Varela Is Elected to Serve on the Federal Home Loan Bank of San Francisco Board of Directors
January 4, 2019 – Golden Pacific Bancorp and Golden Pacific Bank ("GPB") are pleased to announce that GPB President and CEO Virginia Varela was elected to serve as a new Director of the Federal Home Loan Bank of San Francisco ("FHLB SF") representing California banks and credit unions starting January 1, 2019. This will be in addition to her ongoing CEO responsibilities at GPB.
GPB Board Chair David Roche states: "We are proud to have Virginia Varela receive the support and recognition of her peers. She will bring much experience, perspective and energy to the FHLB." Ms. Varela comments, "I am very excited to join the FHLB and look forward to representing California banks and credit unions through imminent economic cycles and marketplace challenges."
The FHLB SF promotes residential housing finance, and enables community lenders to make home mortgage, commercial real estate, small business, and other loans. Working with financial institutions, community nonprofits, and cities and towns across California, Nevada and Arizona, the FHLB SF also supports affordable housing and economic development through targeted grant and loan programs, and sets aside 10% of its income each year to fund Affordable Housing Program grants for lower income households.
In 2019 three Sacramento local leaders will serve as Director on the FHLB SF Board including Virginia Varela, Scott Syphax of the Nehemiah Corporation of America, and Melinda Guzman of Guzman Professional Corporation.
Golden Pacific Bank is a full service community business bank committed to providing exceptional personal and business banking services in and around the Sacramento region, with branches in Sacramento, Yuba City and Live Oak. Golden Pacific Bank recently moved its headquarters to 1409 28th Street in Midtown Sacramento.
---
After Hours: High Powered Women Gathering
By Tia Gemmell – Contributing photographer, Sacramento Business Journal
November 22, 2018 – Local female business leaders mingled at a High Powered Women gathering on Nov. 7 at the home of UC Davis Chancellor Gary May and his wife, LeShelle May.
Nearly 200 women attended the event, which was designed as a way for women to gather without an agenda or awards. It was organized by Jane Einhorn of JE Communications, Linda Farley of Girl Scouts Heart of Central California, Virginia Varela of Golden Pacific Bank, Kathy McKim of Hawksbill Group, and LeShelle May of UC Davis and CNN.
Check out the accompanying slideshow for names and faces from the event.
The first High Powered Women mixer was held last year at the Golden Pacific Bank headquarters. About 80 women attended that event. Another mixer was held in March at the local office of the Girl Scouts Heart of Central California.
Click here for details.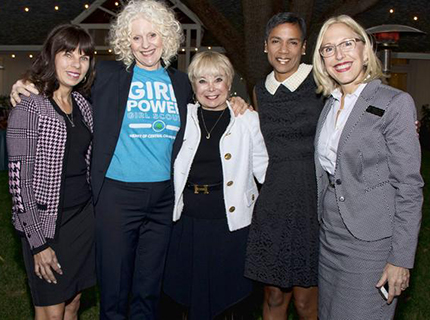 ---
Golden Pacific Bancorp Announces New Stock Symbol "GPBI"
Golden Pacific Bancorp joined the OTC PINK© marketplace in September 2018, trading under the new tickler symbol "GPBI". We believe that being listed on the OTC PINK© Marketplace will bring much-needed visibility to Golden Pacific Bancorp and its wholly owned subsidiary Golden Pacific Bank, Inc, and in turn, our stock. You can find more information about, and review real-time data on, your shares by visiting www.otcmarkets.com/stock/GPBI/quote.
In addition, we are pleased to report that FIG Partners became Market Sponsor for Golden Pacific Bancorp at the same time. In this capacity, FIG Partners will play a critical role in helping facilitate sales and purchases of Golden Pacific Bancorp stock and function as a market marker for Golden Pacific and GPBI shares. Without market makers, under our prior system, it can take longer for buyers and sellers to be matched up potentially increasing trading costs and reducing liquidity. See also a "Frequently Asked Questions" document that outlines this relationship and the new options available for transacting shares posted on the Golden Pacific Bank website www.goldenpacificbank.com.
Our sponsors at FIG Partners can directly answer your related questions and can readily assist you with buying and selling our shares. To buy or sell shares of Golden Pacific Bancorp, please contact:
Troy N. Carlson
Senior Vice President
Head of Corp & Private Client Services
Office: (732) 383-8424
Cell: (917) 828-6200
FIG Partners, LLC
We believe that when combined with the Bank's continued strong financial performance, these partnerships will significantly enhance shareholder value for many years to come.
Golden Pacific Bancorp is the unitary holding company of Golden Pacific Bank, an award-winning small, federally chartered community bank headquartered in the midtown district of n Sacramento, with branches in Sacramento, Yuba City and Live Oak. Golden Pacific Bank provides tailored financing and cash management services to small and mid-sized businesses.
View our Q&A Form HERE
---
Possible Skimming Deviceds at Gas Stations in and Around Yuba City
The City of Yuba City released an alert recently that the Yuba-Sutter area is having issues with skimming devices at gas stations that cause debit card fraud. Please be alert. There are a few things customers can do to help protect themselves from fraud:
Go inside the store to pay for gas. I know this is not convenient but it is more safe.
If they do want to pay at them pump, make sure they inspect the card reader to see if it has been tampered with. (If fit shakes or moves, looks different then the other pumps, or looks like it has something attached or inserted)
Use your card as credit, entering your Pin number at a pump that has a skimming device provides fraudsters with you card AND pin. They can then go to ATM's and withdraw cash.
Monitor your account on a daily basis! This is important, fraudsters could potentially drain your account in just a day or two.
If you have any questions or for more information, contact Golden Pacific Bank.
---
Golden Pacific Bank Sacramento Branch and Headquarters Grand Opening
On June 20th, 2018 we celebrated our move to midtown with over 200 guests! Here are some photos from the occasion. Thank you to all who were able to join us!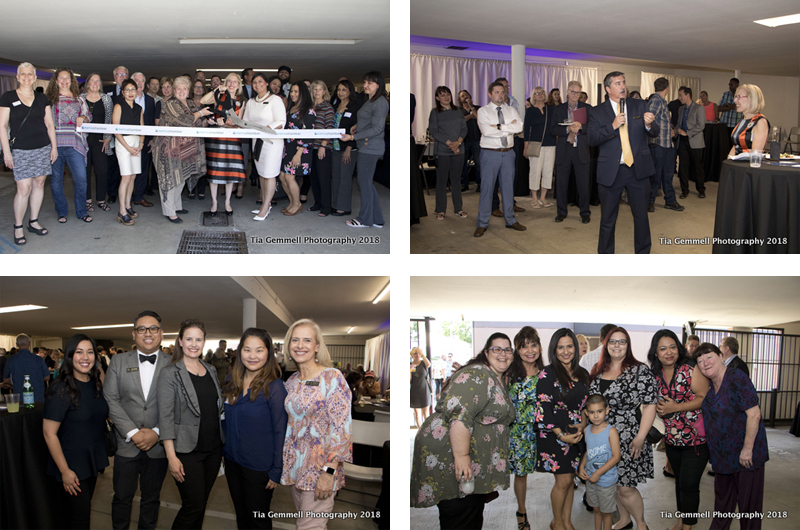 ---
Our Sacramento Office Is Moving to Midtown!
We're moving to Midtown!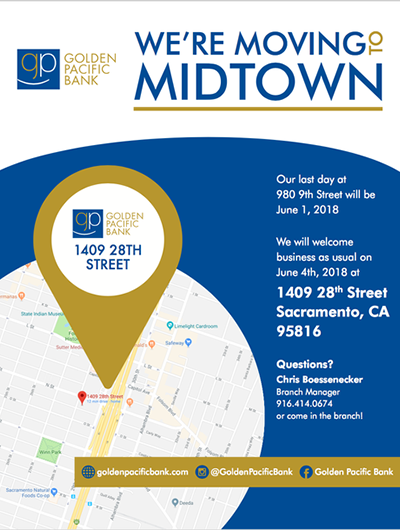 ---
Bank Lending Surges with Growing Economy
March 1, 2018 – As Sacramento's economy continues to grow, regional banks with significant local operations increased their earnings and assets in 2017.
Combined total assets at the 19 regional banks with major operations in Sacramento rose 3.8 percent to $70.7 billion in 2017 over the previous year, according to data from the Federal Deposit Insurance Corp. Year-over-year earnings at those same institutions were up 1 percent when you exclude the Roseville-based Rabobank NA from the mix. Rabobank, because of its size and a recent hefty fine, skews the earnings numbers.
A decade after the financial crisis, regional banks have largely worked through problem loans, and they have brought lending back to the forefront. Loan totals rose 8.5 percent to an aggregate of $47.1 billion over the previous year, according to research based on FDIC numbers. Traditionally, rising loan totals indicate that borrowers are more confident about taking on debt because of confidence in future economic growth, and banks are more confident in their borrower's ability to repay debt.
The only bank to show a loss for 2017 was Rabobank, which paid federal banking regulators $369 million in fines and penalties during the first quarter this year following a long-running investigation into the bank's lax policies for monitoring money laundering dating back 2013. The bank took a provision of $368 million for that payment in the fourth quarter of 2017. Through the first three quarters of 2017, the bank earned $77 million.
"Things are going well now, and it is nice to have this all behind us," said Greg Jones, spokesman with Rabobank.
Also impacting the economy was the Tax Cuts and Job Act of 2017, which was enacted in December and cut the corporate tax rate from 35 percent to 21 percent. Bankers say the tax cuts will help them and their customers going forward by allowing them to keep significantly more money.
Some banks reacted to the federal act with local bonuses. River City Bank awarded all employees at the vice president level and lower a $1,000 bonus. Dixon-based First Northern Bank gave its non-management employees a one-time cash bonus of $1,000, and it gave managers at its 10 branches $10,000 each to support local nonprofits.
"We are putting money back into the company," said Mitch Derenzo, chief financial officer with American River Bank. All of the bank's employees are covered in an incentive bonus plan, so they do well when the company does well, Derenzo said. American River is going to invest its tax savings into hiring more lending officers, which should in turn bring in more money to the bank.
"We're focused on the shareholders," Derenzo said.
The major national banks, whose market share dominate the local bank market, are not included in the list because the vast majority of their assets are held outside of the market.
Anderson. M, Sacramento Business Journal
---
"High Powered Women" Event a Great Success
The second annual "High Powered Women" event on March 1, 2018 was a great success. Over 120 women attended, many of them Golden Pacific Bank customers. Look for photos and articles in the Sacramento Business Journal, and also in the next edition of Comstock magazine. This is great PR for our Bank! Thanks to all of you women that attended or invited high powered female friends, colleagues, family and customers.
"In 2017, four powerful women, Jane Einhorn of Einhorn Consulting, Virginia Varela of Golden Pacific Bank, and Kathy McKim and Yen Marshall, formerly of AT&T, decided that they wanted to start an annual gathering of high powered women meeting other high-powered women, with no agendas, no awards, and no speeches, at no cost! The first event in 2017 was held at the Golden Pacific Bank headquarters, with about 80 powerful women attending. Last week's 2018 event was attended by over 120 powerful women at the new STEM Girl Scout Center in Sacramento, co-hosted by Linda Farley of Girl Scouts. This fun event honored powerful women everywhere, including all women in the Greater Sacramento area, with a special call out by Virginia Varela to former Fed Chair Janet Yellen, and by Linda Farley to all current and former Girl Scouts."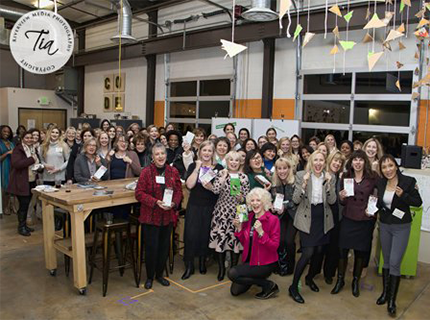 ---
Golden Pacific Bank Plans for Increased Business Demand: Buys Commercial Building in Midtown Sacramento and Announces in June 2018
February 13, 2018 – Golden Pacific Bank, a federally chartered community bank, is moving its Sacramento branch and headquarters administrative office to a newly purchased commercial building in Midtown Sacramento located at 1409 28th Street. The new facility includes a new loan production center and state of art business branch. The grand opening is planned for June 2018.
"We are excited to move into bright new quarters in the quickly emerging, dynamic Midtown area. Our new location and facilities allow us to continue enhancing our ability to serve our customers at the highest levels," says Golden Pacific Bank CEO and President Virginia Varela.
The move stems from Golden Pacific Bank's need for a modernized space layout and convenient parking to accommodate its small business customers, and growth in demand for the bank's commercial real estate and apartment building loans, and convenient cash management services.
Golden Pacific Bank provides a broad range of banking services for small and medium size businesses and individual customers. It is currently a top community bank for its size and market, with a focus on traditional banking, quality services and local expertise. The bank also has branches in Yuba City and Live Oak, and a business center in Marysville. Golden Pacific Bank ended 2017 strongly, marking ten consecutive quarters of profitability and the most profitable year in the Company's ten-year history.
---
Golden Pacific Bancorp Posts Record Earnings for Yearend 2017
February 12, 2018 – Golden Pacific Bancorp, holding company of Golden Pacific Bank, a federally chartered community bank, posted 2017 Bank net earnings topping $1.16 million, and consolidated net earnings of over $850 thousand, representing ten consecutive quarters of profitability and marking the most profitable year in the Company's ten-year history. Since December 31, 2015, the book value per share of common stock has increased by over 13%. Trends and projections indicate more efficient core operations and net interest income going forward.
As of December 31, 2017, the total asset size of the bank is $125 million. Cost of funds remains very low, resulting in a robust net interest margin of 4.86%. Current bank margins position the bank for success, especially given the expected rising interest rate environment. The bank maintains a healthy credit portfolio and actively keeps problem credits to a minimum, including incurring very low net charge offs. Non-accrual loans shrunk by approximately 45% in just one year's time.
At December 31, 2017, the Company's equity capital ratio was 9.71%, and risk-based capital to risk weighted assets was 15.05%. Golden Pacific Bancorp maintains a well-capitalized bank status and a positive standing with our regulators at both the Office of Comptroller of the Currency and the Federal Reserve Bank.
Golden Pacific Bank enjoys a very experienced, professional executive management team that has established strong, consistent policies and procedures to give the bank a solid footing and continuity. The Board and executive team are focused on vigorous business development in 2018. Over the past year the bank has improved its small business deposit and lending programs with the addition of experienced business bankers to the team and with renewed efforts to serve its local business community.
Golden Pacific Bank continues to have money to lend and the ability to grow deposits in all branches. The bank offers a variety of retail and commercial services including personal checking and savings accounts, debit and credit cards, wire transfers, and safe deposit boxes. For businesses, it offers business checking and savings accounts, credit cards, Billpay and ACH services, auto sweep accounts, lockbox, positive pay, and remote deposit capture. Golden Pacific Bank offers online banking including online deposit services.
Contact: Virginia Varela President & CEO Golden Pacific Bancorp (916) 414-0680The bank also offers various loan products including business term loans, CRE loans, business lines of credit, SBA loans, and multifamily/apartment loans, with competitive rates and personalized payment/repayment terms.
---
Bank Moving Headquarters from Downtown Skyscraper to Midtown
February 13, 2018 – Golden Pacific Bank, based in a Sacramento skyscraper, is giving up its flashy, leased downtown digs to move into a building it bought in midtown.The bank has been in the Park Tower building at 980 Ninth St. since it started in 2010. Golden Pacific has a branch on the ground floor, facing J Street, and executive offices in the 23rd floor.
The bank's downtown real estate totals 4,000 square feet, with much of that in the ground-floor branch. CEO Virginia Varela described it as "a lot of wasted space."
The new building at 1409 28th St. is 6,000 square feet, and it will be cheaper for the bank than the lease in the downtown tower.
From an accounting standpoint, "it is really a benefit for the bank to own a building," Varela said. Golden Pacific bought the building last September for $1.5 million, according to the property records. The bank will also have its own parking in the midtown building, Varela said. In the downtown building, Golden Pacific pays for parking and validates its customers' parking. "We cater to small and medium-sized businesses, so midtown is a better match for that," Varela said, adding that she likes the neighborhood. "It's just a cool and trending area." The building is next to Paragary's restaurant on 28th Street.
Varela was named CEO of Golden Pacific four years ago to turn around its performance. The bank lost $99,000 in the first six months of 2013, its last year under previous CEO Kirk Dowdell. He was terminated and later banned from the industry in a settlement with the Office of the Comptroller of the Currency over allegations that he charged personal expenses to a company credit card. Under Dowdell, Golden Pacific had tried to get into the mortgage business when commercial banking was slow. Under Varela, the bank has concentrated on small businesses, Small Business Administration lending, commercial real estate and apartment loans. Golden Pacific is also building up its cash management practice, she said.
The bank's midtown building is currently under renovation. Varela said its design will include an open and airy branch with more windows. A separate part of the building will have a loan production center. She said she hopes to move in this June. Golden Pacific also has branches in Yuba City and Live Oak, and a business center in Marysville.
The bank earned $1.16 million last year, on assets that totaled $125 million at year-end. Varela said Golden Pacific has now achieved 10 consecutive quarters of profitability, and 2017 was the most profitable year in the bank's history.
– Anderson. M, Sacramento Business Journal
---
Golden Pacific Bank Sponsors Historian Doris Kearns Goodwin at Sacramento Speaker Series
November 15, 2017 – Golden Pacific Bank sponsored historian Doris Kearns Goodwin at the Sacramento Speaker Series. Doris Kearns Goodwin is a world renowned presidential historian, Pulitzer Prize winning author of best-selling history books, and frequent, and perhaps the most knowledgeable commentator on current political events. She worked with Steven Spielberg on the Academy Award winning movie Lincoln, which was based in part on her award-winning book Team of Rivals. An avid Boston Red Sox fan, Goodwin was the first woman journalist allowed in the Red Sox locker room. Ms. Goodwin was introduced to the audience by Golden Pacific Bank CEO Virginia Varela.
---
Dear Golden Pacific Bank Shareholders, Employees and Customers
Our heartfelt thoughts and prayers are with all of you impacted by the recent wildfires. We are sorry that so many of you, including several of our employees, had your lives recently disrupted by evacuations and other distresses. Some of our most unfortunate customers lost their homes.
This can be a stressful time. Please know that Golden Pacific Bank is here to help. With lessons learned including from the pending floods last spring, we are disaster ready and equipped to handle your cash needs and those of your friends in the community.
Should you need additional cash or assistance with any of your accounts or loan services, please do not hesitate to contact us here at (800) 582 – 5503, or check out your online banking by logging in at www.goldenpacificbank.com
Sincerely,
Your Friends at Golden Pacific Bank
---
Golden Pacific Bank supports South East Asian Central Banks (SEACEN) Research and Training Centre, Kuala Lumpur, Malaysia
I just returned from a very interesting experience that I'd like to share with you. For the past ten days I was an invited guest speaker at the South East Asian Central Banks (SEACEN) Research and Training Centre, Kuala Lumpur, Malaysia. I was sought to present and lead discussions on such topics as corporate governance, strategic planning, small and medium enterprise and commercial real estate lending, and increased competition raised by automated lending. Conference participants represented Bangladesh Bank, Reserve Bank of India, Bank Indonesia, Indonesia Deposit Insurance Corporation, Bank Negara Malaysia, Central Bank of Myanmar, Nepal Rastra Bank, Central Bank of Sri Lanka, Bank of Thailand, State Bank of Vietnam, and Deposit Insurance of Vietnam. Other trainers were from Africa and Italy. The wide participant base and lively discussions highlighted global concerns such as expectations of increasing liquidity risk, need for detailed stress testing with rising rates, and capital constraints under evolving international rules and requirements.
It was astonishing to note the similar issues, concerns and approaches amongst bankers regardless of country of origin. Also, in spite of significant challenges and disasters in numerous countries represented, I was touched by many personal expressions of condolences to me and our Bank regarding the California fires that were reported the same week of training.
This experience was unquestionably a highlight of my career, leaving memories that I will relish for years to come.
– Virginia Varela, President/CEO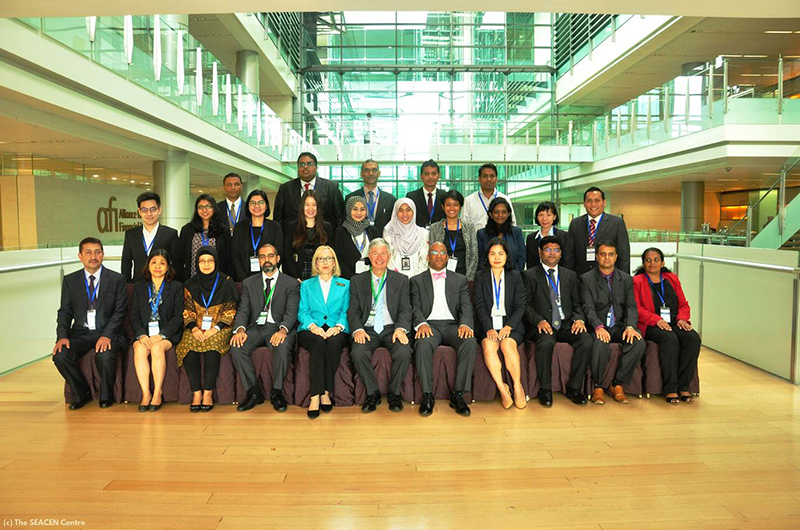 ---
Virginia Varela Elected Pacific Region Representative of "Friends of Traditional Banking"
With a unanimous vote of the FOTB Executive Committee, Virginia Varela was recently accepted as a new member of that committee, representing the Pacific Region (Alaska, Hawaii, Washington, Oregon, and California). Varela, who is president and CEO of Golden Pacific Bank in Sacramento, brings over 25 years of experience in the industry.
"We are thrilled to have Virginia on our executive committee," said Ty Abston, chairman of Friends of Traditional Banking. "She brings a depth of experience and important perspectives that will help us continue to grow our grassroots organization."
Varela also serves as a member of the Board of Directors of the California Bankers Association and has held positions with the Federal Reserve Bank of San Francisco, the Office of Thrift Supervision, and the Federal Home Loan Bank of San Francisco.
"I am pleased and honored to be included on the FOTB executive team representing the Pacific Coast Region," said Varela. "I strongly believe in community banking and support any endeavor committed to defending it from misguided laws and overregulation."
---
Golden Pacific Bancorp Announces Board Changes
August 8, 2017 – Virginia Varela, CEO of Golden Pacific Bancorp, announced that Richard Claussen, a founding Director, has formally resigned from his position as Chairman and Board member. Director David Roche is appointed as the new Chairman of both the Golden Pacific Bancorp and Golden Pacific Bank Board of Directors. Mr. Roche has over 30 years of extensive experience in the financial services field including as a veteran and partner with Deloitte & Touche, and over ten years in community banking.
Mr. Claussen says, "I have recently retired from my primary businesses, and it is also time for me to reduce my outside responsibilities so I can focus more on the activities I wish to pursue in retirement. Golden Pacific Bank is in excellent hands with our very dedicated and experienced CEO, Virginia Varela, and our management team, as well as with our talented Board of Directors. I have every confidence that the Bank will continue to grow and meet the needs of its customers as the area's premier community bank."
Mr. Roche says, "I am pleased to serve as Chairman and excited about Golden Pacific Bank's future; the Bank is well positioned for success and realization of enhanced shareholder value. We are grateful for Mr. Claussen who led us through a period of transition with superb leadership, and we wish him all the very best in his retirement."
---
Golden Pacific Bank at the 2017 Annual Sacramento Niello Corporate Run
Golden Pacific Bank staff strutted their stuff at the third annual Niello BMW Corporate Run, on Thursday, May 25. Staff, friends and families ran, walked and wheeled through downtown and along the Sacramento River and back to Capitol Mall.
Golden Pacific Bank is the only community bank participating in the Banking/Investments division three years in a row! GO TEAM GPB!!!
Thanks to all that participated, and especially to Melissa Silveira that helped organize and design the T-shirts this year.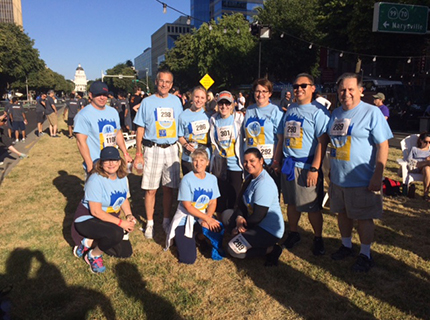 ---
Virginia Varela Wins Prestigious Women Who Mean Business Award
June 23, 2017 – Golden Pacific Bank is pleased to announce that our bank President/CEO, Virginia Varela, was honored as one 14 women in the greater Sacramento area to receive a prestigious "Women Who Mean Business" award. This award celebrates women who have become powerful movers and shakers in the community. Some of the honorees had to overcome enormous personal struggles — poverty, abuse, prejudice — to get to where they are. Others had to surmount tremendous barriers in their industries, long dominated by men. And many have had to work hard — harder than their male counterparts — to carve out a path where none had existed before. Golden Pacific Bank congratulates our very own Virginia Varela, as well as all of this year's honorees, who received this esteemed and much-respected award. An awards luncheon, attended by hundreds, was held at the Sacramento Hyatt Regency on June 23. 2017, to celebrate the award recipients.
Click here for details.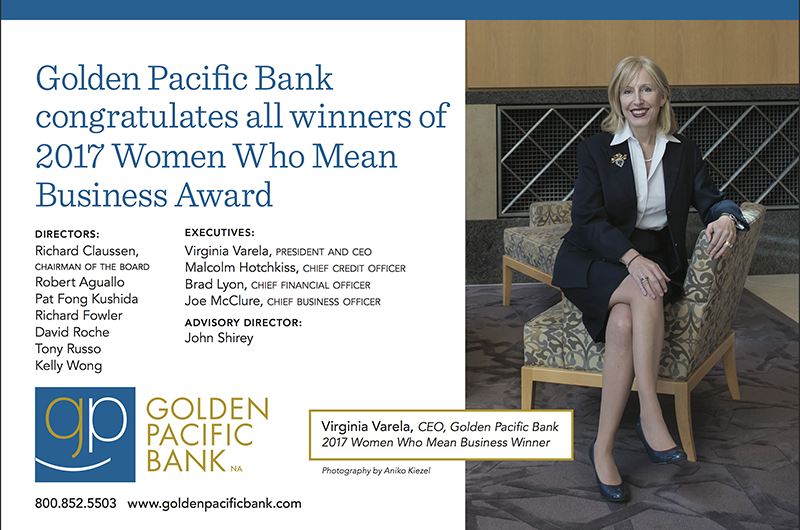 ---
Tips from Sacramento Small Business Believers
On May 3, 2017 Golden Pacific Bank was host to a gathering of over 30 local business people who met for a "Small Business Believers" event to listen to local business experts present tips to help small businesses thrive, and to discuss their outlook on the Sacramento economy. Featured guest speakers were Allan Zaremberg, President and CEO of the California Chamber of Commerce; John Shirey, Former City Manager, City of Sacramento; and Mark Haney, host of Entrepreneurs Unlimited radio talk show on KHTS.
Click here for details.
---
Former City Manager to Advise Sacramento Bank
May 5, 2017 – John Shirey, the former Sacramento city manager, has joined Golden Pacific Bank as an adviser to its board of directors.
It is the second high-profile addition to the bank's management in as many months. In April, Golden Pacific announced that Joe McClure, the current Sacramento district director of the Small Business Administration, will join the bank as its new chief business officer at the end of May.
Shirey is already working with the bank's advisory board, said Golden Pacific CEO Virginia Varela. Shirey said he will consult with the bank on local and regional issues and developments.
Shirey was city manager from 2011 until his retirement at the end of last year. Prior to joining the city, he spent a decade as executive director of the California Redevelopment Association.
Shirey is a graduate of Purdue University and earned his master's degree in public administration from the University of Southern California.
Golden Pacific Bank is the primary subsidiary of holding company Golden Pacific Bancorp. The bank has branches in Sacramento, Live Oak and Yuba City. It earned $615,000 last year on assets of $130 million.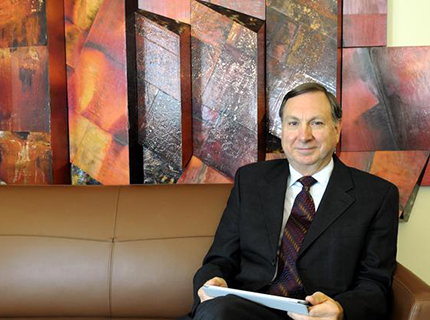 ---
Golden Pacific Bank Announces SBA Veteran Joseph Mcclure as New Chief Business Officer
April 19, 2017 – Golden Pacific Bancorp and Golden Pacific Bank ("GPB") are pleased to announce that SBA District Director Mr. Joseph ("Joe") McClure will be joining the Bank's executive ranks as their newly appointed EVP/Chief Business Officer. Mr. McClure has an impressive 25+ year career in small business lending and economic development, holding executive leadership positions for over 15 years.
"It is with great pleasure that we welcome Joe McClure to our team," says Richard Claussen, Chairman of GPB. "Joe has vast experience with a variety of small businesses, and his involvement and dedication will be a valuable asset in helping GPB build a strong and vibrant community banking force in Northern California." CEO Virginia Varela adds, "The Bank is poised to take advantage of the recent uptick in the local economy. Joe will enhance GPB's already robust commercial loan program to meet the needs of growing small and medium size businesses."
Joe's oversight as Small Business Administration ("SBA") District Director covers 22 counties in Northeastern California, serving over 3.1 million constituents. Under Joe's leadership, in just three years SBA loan volume grew by over 30% from 700 to 928 loans, and total dollars grew by over 55% from $306 million to over $475 million, in 2013 and 2016 respectively. Before arriving in Sacramento, Mr. McClure was the SBA District Director in Montana.
Prior to his federal service, Mr. McClure worked in small business lending programs including overseeing a SBA 504 lending program at the Lancaster Economic Development Corporation, running the Los Angeles County Business loan fund for the L.A. County Community Development Commission's Business Finance Center, and acting as the Executive Director of the Economic Development Collaborative in Ventura County.
In 2000, McClure resided in Billings, Montana, where he was Executive Director for a county wide Economic Development Agency and led a business recruitment effort for Yellowstone County that lured four new major employers to the community, including General Electric and Cabela's, and created over 750 new high-quality jobs. Joe also created a privately funded Economic Development Corporation, launched a small business revolving loan fund, and developed a new SBA 504 Certified Development Corporation which has recently become the leading SBA 504 lender in Montana.
Mr. McClure commented, "I'm a true supporter of small business and excited to join Golden Pacific Bank. Sacramento continues to enjoy resurgence, and small business is at the heart of that exciting growth."
Golden Pacific Bank www.goldenpacificbank.com is a full service community business bank committed to serving the small and medium size business community in and around the Sacramento region, with branches in Sacramento, Yuba City and Live Oak.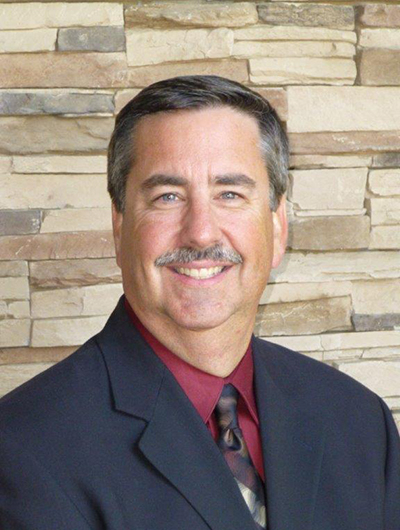 ---
2017 GALA
January 2017 – As proudly announced at the January 13, 2017 GALA, Golden Pacific Bank, winner of the Yuba Sutter Chamber of Commerce BUSINESS OF THE YEAR AWARD and 2016 Business of the Year SERVICE award.
Business Awards Application recognizes organizations that have achieved outstanding results through initiatives that demonstrate leadership and commitment to service excellence.
The Yuba Sutter Chamber of Commerce Business Awards
The Yuba Sutter Chamber of Commerce Business Awards is a program that honors the achievements and contributions of industry leading projects, initiatives, products and services. Chamber member organizations that demonstrate the core values of business innovation, technological achievement, sustainability and commercial success are invited to participate and be celebrated and recognized via a set of established business and product award categories.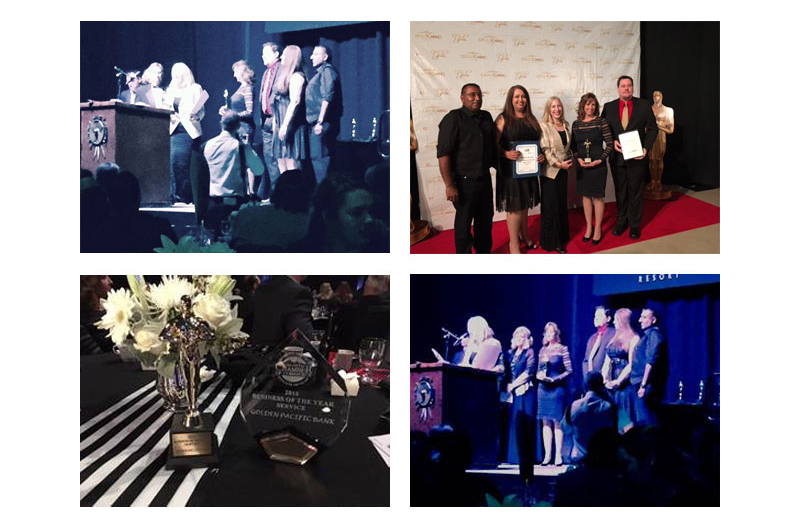 ---
BizWorks
Golden Pacific Bank offers its building and other backing to the Yuba Sutter Chamber of Commerce and others as part of its continued support of the Golden Pacific Bank Business Center, a one stop shop resource bank for small business owners, start-ups and entrepreneurs–all in one place and at minimal cost. Located in downtown Marysville, the Golden Pacific Bank Business Center is a perfect hub for training, networking, and inventing. Businesses have access to work space and professionals for consultation about lending, cash management and other financial services, marketing, staffing and other business tools.
Says Golden Pacific Bank President and CEO Virginia Varela, "The collaboration and cooperation between Golden Pacific Bank, the Yuba Sutter Chamber of Commerce and other Chambers, the SBCDs, District SBA, BizWorks, Cal Cap and other programs has been great. Our interests are strategically aligned which makes for a winning combination. Golden Pacific Bank's continued support is also an opportunity to demonstrate to the local community that we are committed to growing businesses and job growth."
Golden Pacific Bank is happy to continue its support of this vitally important resource for small business owners and start-ups. As a small, locally owned and run business ourselves, Golden Pacific Bank uniquely understands and commits to supporting the special needs of entrepreneurs and small businesses. We are proud to be part of this dream come true, and excited to watch Golden Pacific Bank Business Center create jobs and strengthen the local economy.
---
The Advantage of Community Banking
Published online Oct 28, 2016, 5:40am PDT Banking & Financial Services
Nov 8, 2016 – (Sacramento Business Journal) We've all heard about the scandal at Wells Fargo involving wrongful sales practices. This reportedly occurred in the Wells Fargo "Community Banking" unit, under the leadership of ex-chairman and CEO John Stumpf and community banking division executive Carrie Tolstedt, who are both now said to be walking away from the bank with tens of millions of dollars in stock and options.
Many Wells Fargo customers are irate and looking for another financial institution to bank with.
Yet, when deciding on a financial partner, customers may not consider, nor understand the important distinction between noncommunity "mega-banks" that are systemically risky institutions, such as Wells Fargo, and small, local, true community banks that offer many benefits and inherent risk controls.
Wells Fargo is one of those mega, "too big to fail" banks that by shear size come with their own set of issues. According to the Federal Deposit Insurance Corp., as of June 2016, four noncommunity banks held 41 percent of total bank assets in the entire U.S. Those banks were JP Morgan Chase, Wells Fargo, Bank of America, and Citibank. These banks are massive. Most consumer policies, procedures and practices are established at a remote location, according to corporate rules, with wide-scale ramifications that are hard to maneuver and risk-control.
In contrast, there are about 6,000 community banks in the U.S. Community banks are defined as those that focus on providing traditional banking services in their local communities.
Local bankers had nothing to do with the corruptive corporate sales culture at Wells Fargo. They are not and will never be a Wells. Community bankers pride themselves on accountability and intimate knowledge of their communities. They are held to high standards because community bankers live and work in the local communities that they serve. Community bankers are especially tied to the success of their communities and simply can't afford to take advantage of their customers.
Community bank executives have a level of oversight that makes a scandal such as what happened at Wells less likely. They pride themselves on specialized knowledge of their local community and can respond with an approach especially tailored to that customer and community. Their work is building customer relationships at an intimate level at which the local customer comes first.
If something does come up, such as fraudulent practices, community banks have the ability to respond to complaints and issues quickly without layers of management and bureaucracy getting in the way.
When you are choosing a bank, consider all alternatives. You may not need a trillion-dollar bank for your asset needs. Maybe your choice is a local bank with immediate access to the decision makers and an on-site CEO.
Virginia Varela is CEO of Sacramento-based Golden Pacific Bank.
---
Bank on the Corner
Funding Local Business is its Mission...
Nov 7, 2016 – As community celebrations go, it would be difficult to top Cecily Hastings' new book, "Inside Sacramento: The Most Interesting Neighborhood Places in America's Farm-to-Fork Capital." And since Cecily owns the publication you're presently reading, she doesn't need my help to cheer the small businesses highlighted in her book.
But as I flipped through "Inside Sacramento" and marveled at the story in pictures and words, I realized it was a blueprint for how a city comes of age. Which raises a question: Beyond the cultural vibrancy these businesses provide, how important are they to Sacramento's economy?
It turns out they are extremely important.
Small businesses— enterprises such as Magpie Cafe on 16th Street and Bacon & Butter in Tahoe Park—are a cornerstone of the local economy. They can't be underestimated or overlooked.
Sacramento has a unique relationship with small business. The community lacks Fortune 500 headquarters and the jobs they create. The city is not an industrial or manufacturing base. And Sacramento's historic links to agriculture have been dwindling for 50 years
Small businesses—especially restaurants, bars and the hospitality sector—fill the void. U.S. Census data show food services and accommodations provide 22,000 jobs in the city of Sacramento. Most are clustered around the eight core neighborhoods featured in Hastings' book. About 12 percent of the city's workforce earns a living in the hospitality and retail service industries.
Sacramento relies on government jobs to provide the vast majority of local paychecks. With a population of about 480,000, the city has 96,000 residents working in what census authorities call "public administration." That means government work.
Beyond public administration, the impact of small business becomes apparent on every street where people wander, shop and play. Small firms with fewer than 20 employees account for 41,000 jobs in Sacramento—23 percent of the workforce. That's monumental.
To better understand the significance of small businesses in the community, I talked to someone whose work revolves around the dreams, ambitions and realities of local entrepreneurs: Virginia Varela, president and CEO of Golden Pacific Bank.
Varela has spent her career in banking. She served as a federal The Bank on the Corner bank regulator and U.S. Treasury official. These days, she runs a small community bank headquartered at 9th and J streets. Golden Pacific has retail operations in downtown Sacramento, Yuba City and Live Oak. The bank specializes in making smallbusiness loans.
"We think small is beautiful," Varela says. "We are unique in comparison to big-box banks. There are three of us here in the office with loan authority who make almost every decision on small-business loans. Or we can reach out directly to our board members if we need more consultation. When you get a loan from us, it's the CEO who's approving your loan."
Providing funds for businesses owned by women and minorities is a Golden Pacific subspeciality. Varela has seen how difficult it can be for women, young people and minority entrepreneurs to secure bank loans, forcing many into secondary financial markets that lack the regulation, oversight and competitive interest rates of a real bank.
"That's a point of pride for us," she says. "The small-business entrepreneur is a target customer for us. Being small ourselves, we know where they are coming from."
Golden Pacific Bank supplied funds for several of the 101 businesses featured in "Inside Sacramento." Befitting the community pride that comes from assisting a small business open its doors, Varela makes personal visits to the shops underwritten by Golden Pacific. When the CEO and Golden Pacific staff members buy products and enjoy meals and drinks, the bills they pay directly assist the enterprises they helped establish.
Funding small businesses can be a high-risk proposition. Few types of work are more difficult than running a small enterprise. And sometimes, small entrepreneurs fail.
Days before the presses rolled on her book, Hastings learned one of the featured retail shops had shut down. She removed the photos and copy and scrambled to add an 11thhour replacement. Readers won't notice the difference, but the banker understands.
"It happens," Varela says. "As much as we want to believe in the prospects of a small business, sometimes, for various reasons, they don't make it."
But many more do make it—and they thrive for decades. "Inside Sacramento" serves as a primer for success, featuring people such as Randy and Stacy Paragary, the Fat family, Matt and Fred Haines and Randall Selland, all of whose restaurants have been operating for decades. There's Darrell Corti, whose family has been selling groceries since 1947, and Vic's Ice Cream, which opened 69 years ago.
They endure because they evolve. And they evolve without losing their small-business spirit.
R.E. Graswich can be reached at [email protected]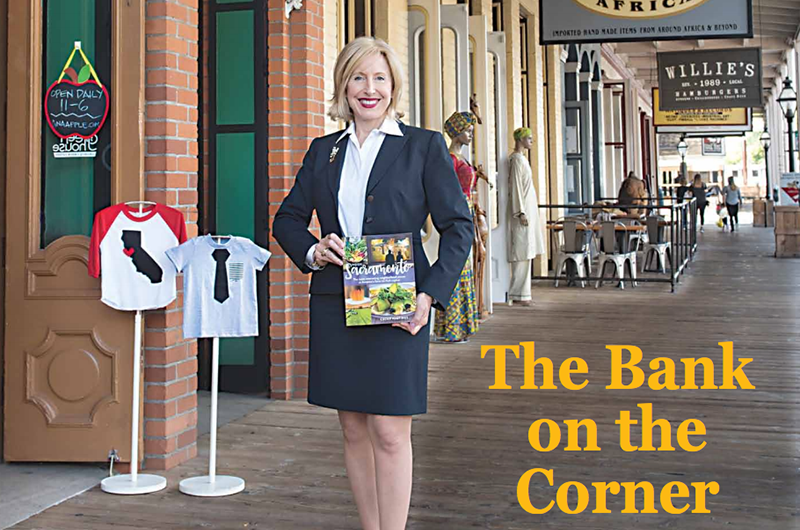 ---
We Are Pleased to Report Golden Pacific Bank's Record Earnings and Awards Recognition in 2016
Golden Pacific Bank proudly reports record levels of earnings performance, achieving core profits for the first two quarters of 2016 of $537 thousand and .8 ROA, and yearend profits expected for the first time in many years, the best year yet!

On October 5, 2016 Golden Pacific Bank was recognized as a Top Ten Lender by the Small Business Association, making this the third consecutive year SBA recognized Golden Pacific Bank in its award celebrations.

In 2016 Golden Pacific Bank also ranks first in all of Northern California for SBA Export Lending, and fourth in the top California SBA export lenders as reported by the Office of International Trade and US Export Assistance Center.
We support small businesses and pride ourselves on excellent service to all our customers. Way to go, team Golden Pacific Bank!!!
Golden Pacific Bank CEO and President Virginia Varela accepts award from SBA District Director Joe McClure.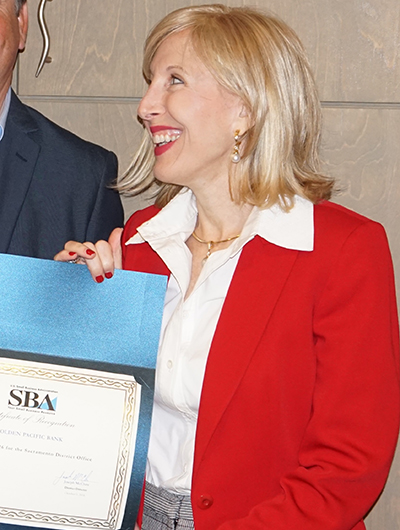 ---
Golden Pacific CEO Leads Turnaround at Sacramento-Based Bank
July 23, 2016 – (Sacramento Bee) When banks are struggling to make a profit, their shareholders often call in turnaround specialists such as Virginia Varela as a consultant or as a leader. Varela brings with her 30 years of experience as both a federal bank regulator and senior banking executive.
For nearly three years now, she has worked with the board of Sacramento's Golden Pacific Bank to improve the institution's finances. The bank had reported only one profitable quarter since 2010 before Varela arrived. Now it has four consecutive periods of profitability.
"I was an examiner or regulator for about 24 or 25 years," Varela told me. "I've been literally to at least 100 banks: meeting boards, seeing the way banks work. So I was afforded a great opportunity to see the way a lot of different banks worked after so many decades of working with them."
Since leaving the U.S. Treasury Department in 2009, Varela has been an executive at Bank of Rio Vista and Bank of the Orient in San Francisco. She was a part-time consultant for four months at Golden Pacific before the board offered her the position of president and chief executive officer...
Full Sacramento Bee Article continued HERE.
---
Spotlight Sacramento: Virginia Varela
(Official Newsletter of Mayor Kevin Johnson, June 2016)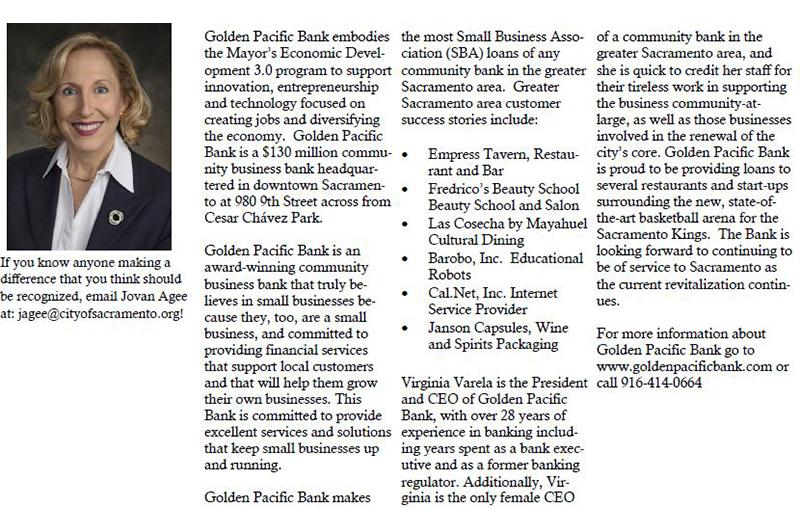 ---
Finishing First at the Annual Sacramento Niello Corporate Run
Golden Pacific Bank won the top award at the Sacramento Niello Corporate Run on May 26, 2016 by finishing first in the Banking/Investments division. This is the second year in a row that GPB grabbed the first place prize for this category! GO TEAM GPB!!!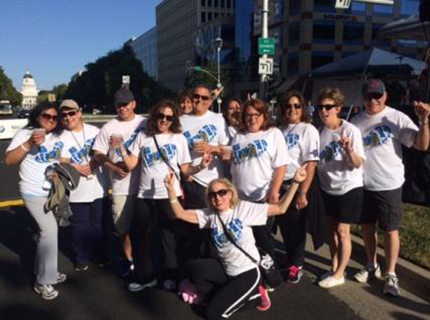 ---
Women in Banking
June 9, 2016 – (American Banker) Turnaround Captain: Banking veteran Virginia Varela prides herself on her ability to "right a ship that's either going down or is lost at sea." That's what she has done in her current job as the chief executive of the $127 million-asset Golden Pacific Bank in Sacramento, Calif., transforming it into one of the largest originators of Small Business Administration loans in its market. "A community bank understands small businesses because a community bank is a small business," she says. Varela also was one of the first female bank examiners for the U.S. Treasury Department and has worked at the Federal Reserve and Federal Home Loan Bank of San Francisco.
---
Virginia Varela Turns Around (And Runs) Banks
June 6, 2016 – (Sacramento Business Journal) "A community bank understands small businesses because a community bank is a small business," Virginia Varela is saying over lunch at the Sutter Club, of which she recently became a member. She's walked the few blocks here from Golden Pacific Bank, where she's president and chief executive officer. This lady knows her banks, from practically every angle, having run four of them as well as serving as a banking regulator. She was also one of the first women in the country to work as a banking examiner for the U.S. Treasury Department and put in time with the Federal Reserve and Federal Home Loan banks of San Francisco. San Francisco is not only her hometown but also that of her family's previous four generations.
I was introduced to Varela several days before our chat and requested both the interview and that she send me her bio. I almost laughed when I received it: she has so much experience in her industry — here, in Washington, D.C., and in San Francisco.
Varela works in the industry's adventure zone: she's a turnaround artist, highly regarded for her ability, as she explains it, to "right a ship that's either going down or is lost at sea. To me, my work is like solving a puzzle or reshaping something to make it functional."
In fact, this is what Varela did at Golden Pacific Bank, turning an institution that focused on consumer banking into a community business bank, one that helps small companies get started or, when necessary, re-infused with needed funds. "We do some of the smaller-size business loans that other banks won't do," she says, "even as low as $25,000." Golden Pacific no longer does personal mortgage loans, she explains, "but we do construction loans, which I really enjoy."
Just don't consign Golden Pacific to the kids' table. At the end of 2015, it was the third largest originator of loans in its Small Business Administration district — just behind U.S. Bank (number one) and Wells Fargo (number two).
"Yeah, we're pretty competitive," she says, grinning.
Varela says while she's not "in the weeds, I really am a hands-on manager. That's one of the differences between a community bank and a big-box bank. You get to know your customers and your team. Banking is really about people and interconnecting and helping bring success."
Varela is one of six siblings. She and her husband of 10 years, Malcolm Hotchkiss, who's also a bank CEO (of Community Business Bank in Oakland), live in Land Park. She has four stepchildren and 12 step-grandchildren.
"To tell you the truth," Varela says in a conspiratorial tone, "money's not very important to me personally. But I like having enough of it and a great job just so I can buy them stuff."
---
Golden Pacific Bank Ranks Again as the Top District Community Bank in SBA Lending!
February 3, 2016 – Golden Pacific Bank ranks again as the top district community bank in SBA lending, as third in District for total SBA loans funded, and second in District for SBA total dollar amount funded from Oct to Jan 2016, topped only by two mega-banks. Once again we prove that Golden Pacific Bank is the leading District community bank providing needed funding to small businesses!
---
Big News For Golden Pacific Bank!
February 1, 2016 – History was made when Golden Pacific Bank and the Yuba-Sutter Chamber of Commerce partnered to form the "Golden Pacific Bank Business Center". The location in Marysville will be the first of its kind Business-Ecosystem and (a 2nd) home to YS Chamber, YS BizWorks (including incubator, / accelerator programs, & co-worker share spaces), YS SBDC, and much, much more.
More information coming soon — stay tuned!
Another way Golden Pacific Bank is working to support our community!
---
Golden Pacific Bank Introduces Mobile Remote Deposit From Digital Insight
December 15, 2014 – (BUSINESS WIRE) — NCR Corporation, the global leader in consumer transaction technologies, today announced that Golden Pacific Bank, a 27-year-old community bank in Sacramento, Calif., is rolling out mobile remote deposit capture as part of its mobile banking experience with Digital Insight, an NCR company. Consumers and small businesses banking with Golden Pacific will be able to deposit checks using their mobile banking app and their phone's camera.
"As a community bank, we base everything we do on strengthening our relationship with our customers," said Virginia Varela, CEO, Golden Pacific Bank. "When you are able to deliver products and services into your customers' hands – even on their phone – you are with them all of the time. Mobile deposit keeps our bank close at all times to our customers – especially small businesses that need fast access to their funds."
---
Golden Pacific Bank Earns SBA Preferred Lender Status
November 13, 2012 – Golden Pacific Bank, NA announced today that the U.S. Small Business Administration (SBA) has awarded Golden Pacific Bank with the SBA Preferred Lender designation.
As an SBA Preferred Lender, Golden Pacific Bank has the ability to close and service government guaranteed loans in a streamlined and expedited manner, responsibilities granted to the Bank by the Small Business Administration based upon the Bank's knowledge of SBA policies and procedures, as well as their demonstrated experience with government guaranteed lending. In the past year, Golden Pacific Bank has established itself as one of the top SBA lenders in the Sacramento Region and throughout Northern California.
"Golden Pacific Bank is proud to achieve this designation from the U.S. Small Business Administration. Our Bank is firmly committed to creating opportunities and providing the financial services to our business community that will help them grow and thrive in this challenging economy. With our Preferred Lender status we believe that we will be better able to serve this vitally important segment of our customer base," said Roy Malone, President of Golden Pacific Bank, NA.
Golden Pacific Bank offers SBA 7(a) and 504 loans, as well as United States Department of Agriculture Business and Industry Guaranteed loans (USDA B&I). Golden Pacific Bank's Government Guaranteed Lending department is headed up by Tom Sharp, VP/Government Guaranteed Lending.
"Golden Pacific Bank is excited to expand our commitment to SBA Lending through SBA's 'Preferred Lender Program' or PLP," said Tom Sharp. "As a PLP lender, Golden Pacific Bank will enjoy 'delegated authority' to underwrite and approve SBA Loans on behalf of the U.S. Small Business Administration. Businesses applying at Golden Pacific Bank for an SBA Loan will experience a streamlined and expedited process from application to close. Golden Pacific Bank looks forward to serving small business loan needs in Northern California through an excellent partnership with the U.S. Small Business Administration."
---